In an interview with a student assistant, recent graduate Noelle Warfford '19 describes life after graduation, recalls on her favorite memories from Roanoke College, and shares about being Salutatorian for the class of 2019.
To start off, can you tell me a little about yourself? 
I'm Noelle, currently a graduate student at The University of Toledo studying Clinical Psychology. I would say I am a pretty friendly, hard-working person. I live with my cat Joshua, who is adorable, and I love to sing and watch movies whenever I get free time. Just not at the same time, to be clear. 😜 
Congratulations on being a Salutatorian! What was it like when you found this out?
When I found out I was Salutatorian, I was so excited that I just wanted to tell everybody I knew. I found out while I was with Dr. Nichols, who was my advisor, which made it even more exciting!
What was graduating like? 
I remember graduation as being simultaneously incredibly fun and pretty stressful. There were so many events to go to that week and people to hang out with and talk to. The evening at President Maxey and Mrs. Maxey's house was awesome, but nothing beats the feeling of hearing your name and walking across that stage!
How did it feel to finally step on the seal? 
Stepping on the seal felt like one of my biggest accomplishments at Roanoke. We all spend four years avoiding it because we're all at least a teeny bit superstitious. So when you finally get to do it, it's such a relief! You really know you made it.
What do you miss about Roanoke College? What is your favorite thing about having graduated? 
I miss so many things about Roanoke…but Commons honestly might be the thing I miss most. Especially all the kind staff, and the delicious desserts. I miss Olin Hall and of course the 5th floor of Life Science too, because I spent so much of my time in those places, usually with my closest friends. The best thing about graduating, though, is not having to worry about parking on campus anymore! And I mean, having a degree is great too. 🙂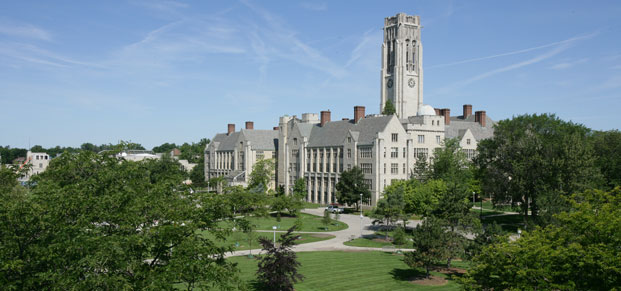 What are you doing now after graduating? 
Since I graduated I moved up to Ohio to go to UToledo. The PhD program I'm in is 5 years long, including one year of internship. As a first year student, I have a few different jobs as a graduate assistant, I have classes on psychological assessment, clinical practice, psychotherapy, and research methods. I'm also already starting research and get to sit in on a clinical practicum where advanced students discuss the clients they're treating at the University Psychology Clinic.
What does a typical day consist of in Graduate school? 
For me, a typical day in graduate school can range from a day where I only have meetings to attend throughout the day but no classes, to a full day where I have an hour-long lab at 8:15 (which I always grab a coffee on the way to campus for), a 2hr 40min class at 10:30, a brief time to grab lunch, and then another long class at 2pm. Since my classes only meet once a week, I usually have a lot of time to work on readings and assignments during the day and then have time to chill in the evening.
What has been your favorite part of graduate school so far? How about least favorite? 
My favorite part of graduate school is getting to study topics I'm interested in in a lot of depth. For example, I've already gotten to practice administering two major cognitive tests, the WAIS-IV and the WIAT-III, on a volunteer. I'm always surrounded by students and faculty who are very passionate about what they do, so it's an encouraging environment to be in. My least favorite part is the sheer amount of reading I have to do. I'm so thankful I got practice reading empirical articles while I was at Roanoke, because I feel like that's all I do now!
Where do you hope this opportunity takes you in the future?
My hope is that during my time in this program, I'll be able to make contributions to research on psychosis assessment, especially assessing thought disorder, and that I'll be able to gain significant experience working with populations with psychotic disorders. From there, I hope I can find a job where I get to do assessments all the time and help train others to become experts in assessment as well.
Is there anything else you would like to tell us?
Hmm…I guess the only other thing I'd like to share is, look out for a chapter on psychosis that I'll be co-authoring with my advisor in the 2nd edition of The Oxford Handbook of Personality and Psychopathology Assessment. I am psyched about getting to work with her on this project! We're starting a lot of exciting work on assessing early symptoms of psychosis, and I'm focusing in on signs of thought disorder, like you often see in schizophrenia.
Congratulations on all of your accomplishments Noelle! We will be continuing to cheer you on from Roanoke College!
. 
. 
. 
Get Connected!