In this post, recent alumni Brice Hinkle discusses what she has been up to since graduating from Roanoke College. After graduating in the midst of the pandemic, Brice has some great insight to share with current Roanoke College students and soon-to-be graduates!
---
Tell us about yourself. What are you up to now?
I got a job at a local Health Food store called Nature's Outlet back in March. Even though it's not in the counseling or social work vein I want to go into, I haven't left because I was learning so much there, but now I actually feel it is time to move on to other things, so I'll be sending out applications to other places over the next few weeks. Between school and work a lot of my free time was taken up in my undergrad, so I wanted to take some time between undergrad and graduate school to focus on my personal goals that I hadn't had time for. I'm really into making sample- and synth-based music and yoga as a spiritual practice and lifestyle, so I've been trying to dedicate more time to those. I'm searching for jobs through Career Services, my network of friends and family, and Indeed.
How did the pandemic impact your plans for after Roanoke College?
The pandemic has been interesting. A group of friends and I were looking for a place to live and the pandemic put us all on a time crunch to do so and cut my friends jobs temporarily, so being able to make rent was scary for a while.
What was your graduation like? Did you get to step on the seal?
I graduated this past May so I didn't get much more than a Zoom call, which was still great. But I had already stepped, sat, and even danced on the seal I can't count how many times every year since my freshman year.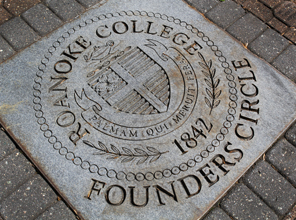 What do you miss about Roanoke College? 
I recently walked around campus again with a friend and I really missed the late nights out with my friends there and the gorgeous campus and views of the sunset. I am happy to have the time to dedicate to exploring other interests now though.
What has been your favorite part of life since graduation?
Honestly, the time I've been able to spend on music has really improved my mood stability. I recommend everyone pick up an instrument of some sort.
Where do you hope to be in the future?
I hope to be living somewhere out west, up north, or abroad working with the mentally ill or the youth.
Do you have any advice for students at Roanoke College now?
Don't do something that you feel your parents or society or your peers expect you to do. Do what you are passionate about and work your tail off for it. Manage your time well and make the most of it, because you only have so much time. Be good to yourself and to others; everyone deserves to be heard and met with patience, compassion, and understanding.
Is there anything else you'd like to add?
I honestly am saddened by my high school's attempt at education. I don't feel that way about Roanoke. You are in a good place, take advantage of it, and revel in it.
---
Thank you, Brice, for taking the time to answer our questions and congratulations on starting your post-grad life. We look forward to hearing about how you are in the future and will continue to cheer you on! A special thanks for the  kind words you had to share with current Roanoke College students.
.
.
.
Get Connected!