…we know you are…
What you need to know about the department:
Majors, minors, and concentrations
Hey new (or not-so-new) students! Have you been debating joining the Psychology Department at Roanoke College? Or maybe just wanting to know more about our programs? You're in the right spot! Below are the basics about the department and different programs we offer. More information can always be found online or acquired through professors and student assistant staff. Let us know your questions!
Major in Psychology
Note: The requirements listed below are for students declaring the Psychology Major anytime after 8-11-2021. To see OLD requirements for those declaring the major prior to this date, please refer to our website.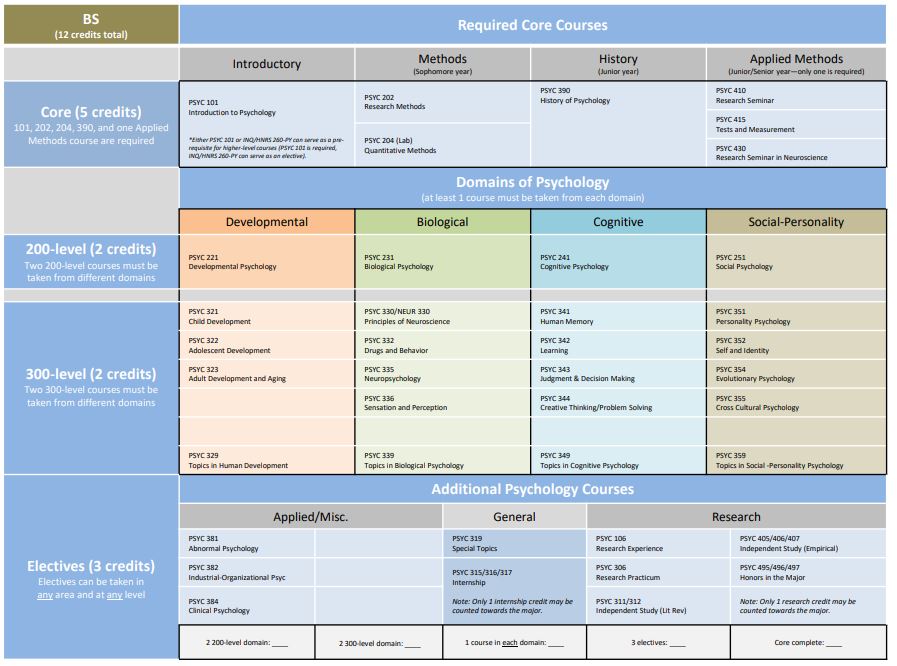 The psychology major is a bachelor of science and requires the completion of 12 units. These units include core (general and methods) classes, one class from each of the 4 domains of psychology, and three elective classes.
Minor in Psychology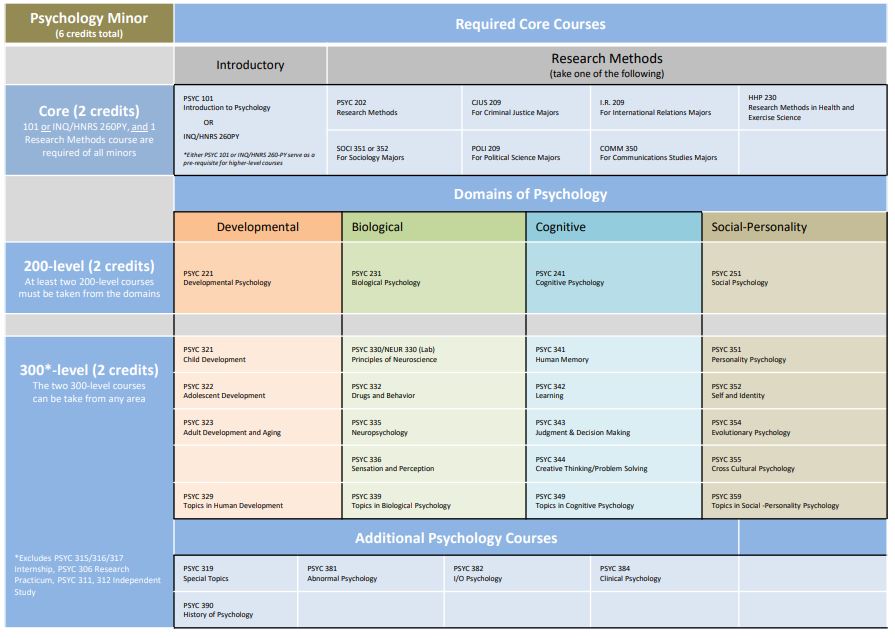 Psychology intersects with many other areas of study in a variety of ways because of its focus on people. A minor in psychology can be a useful addition to any major with the selection of courses tailored to fit what is most relevant to the student. The minor in psychology requires the completion of 6 units.
Human Development Concentration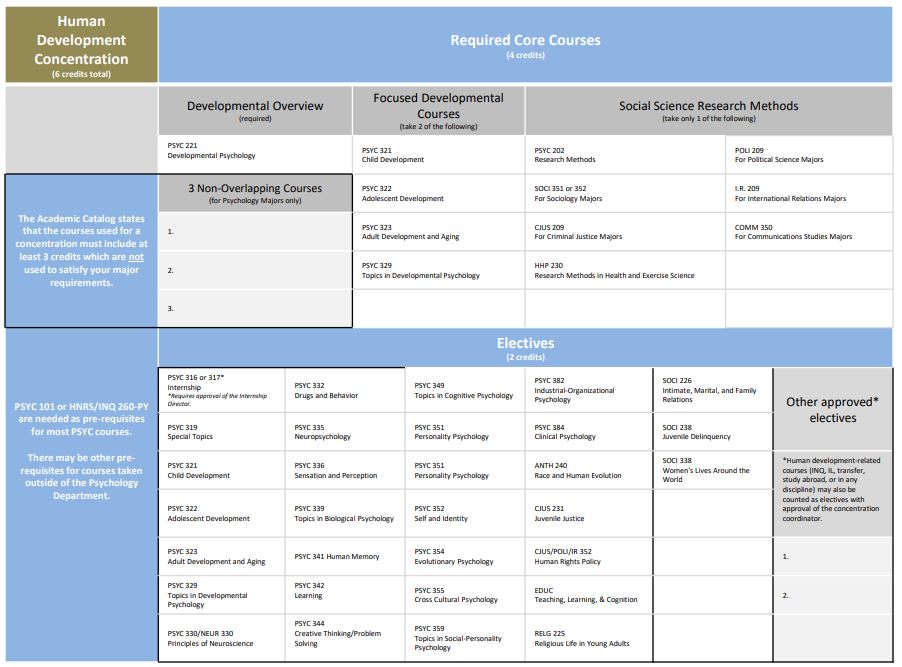 The Concentration in Human Development exposes students to the broader life-span perspective and allows them to focus on the stages (e.g., childhood, adolescence, adulthood) and the topics most applicable to their personal or professional goals. The concentration requires six units and the faculty coordinator is Dr. Powell.
Neuroscience Concentration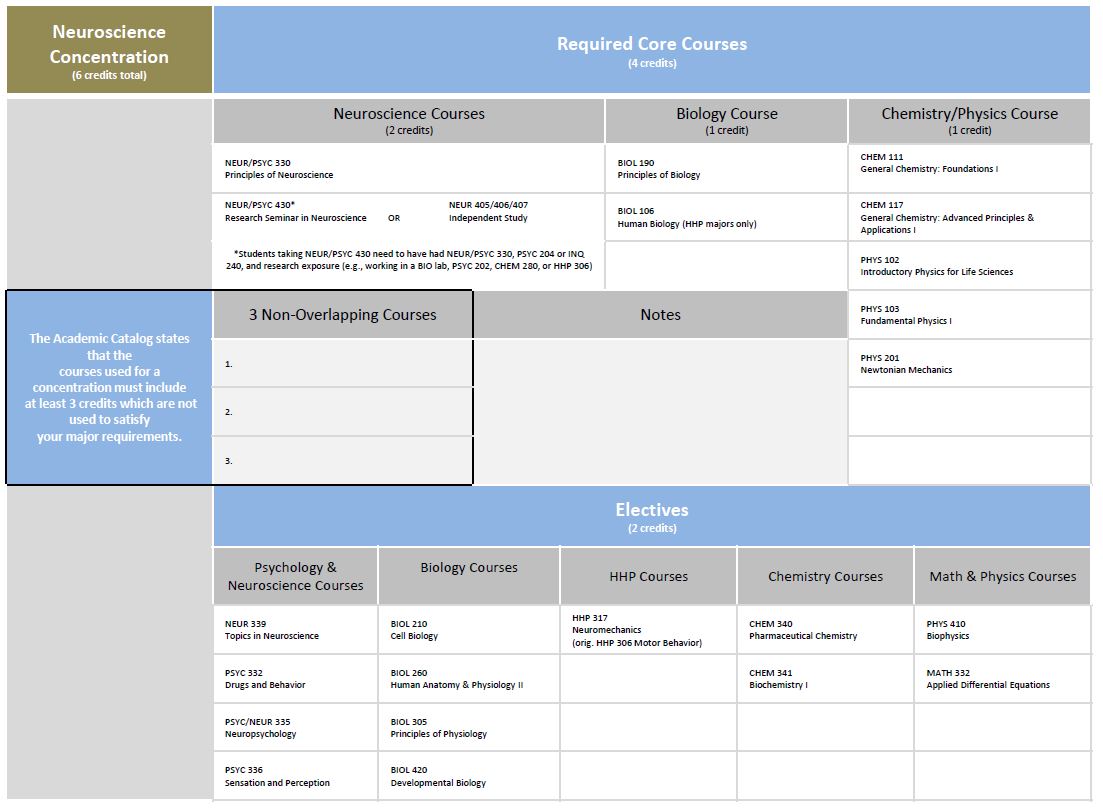 A concentration in neuroscience will offer students an opportunity to learn about theory and research on the brain and nervous system from a number of perspectives. Students will come to understand how developments in biology, psychology, chemistry and related fields alter knowledge and research techniques in the other fields. The faculty coordinator is Dr. Nichols.
---
Ready to declare? You can do so online here… or you can find a list of our amazing faculty members on this page. Contact one of them to find out more information on whichever program you may be interested in. And make sure to check out the spreadsheets with course information – you may be surprised by how diverse and interesting the Psychology Department's curriculum can be. We can't wait to have you!
.
.
.
Get Connected!
Blog: https://psych.pages.roanoke.edu/
Facebook: https://www.facebook.com/rcpsychology
Twitter: @RC_Psychology
Linked In: https://www.linkedin.com/groups/RC-Psychology-8140491/about
Website: http://www.roanoke.edu/inside/a-z_index/psychology
Instagram: rcpsychology